To access the communication channels through which you can contact our support, click on the icon in the lower right corner.
Seven icons for seven communication channels will open:
These are, from the bottom to the top: Viber, WhatsApp, Telephone line, Contact form, Sending SMS messages, Location of the object on Google Maps and connection to Instagram.
Via Viber, WhatsApp and Phone you can make voice contact, via Send SMS message you send an SMS message.
Communication through the first two channels is free, and for the next two, standard rates apply.
The specificity of this Contact Center is that when you click on one of these communication channels, you get a list of agents. You choose from that list which agent you want to contact. In this case, you have a choice of two agents  for the Bosnian/Croatian/Serbian language and two agents  for the Bosnian, English and German languages.
Let's see how it looks on the example of Viber. If you click on the icon for Viber, you will get the following screen layout: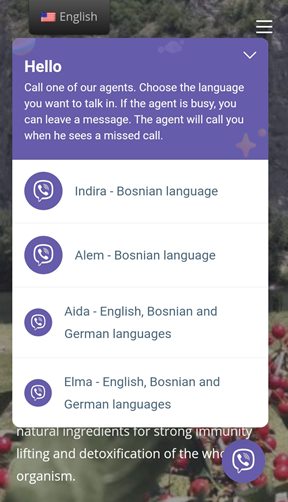 Click on the link you want to make contact. In case the agent is busy, you can send a text or voice message (for Viber and WA) or wait for the agent to call you when he is free.
IMPORTANT NOTE:If you want to make a voice call by phone or send an SMS message, you will immediately receive the number of the selected agent and you can establish contact, regardless of whether you have that number in your directory.
If you are using Viber, and you do not have the number of the called agent in your directory, in this case you will be offered to add the number to your contact list and then you can establish a connection. Of course, this number remains in the Viber directory and the next time this number appears automatically.
In many cases the same is the case with WA, where you additionally have another button to refuse to use the number. However, on some phone models, it is necessary to first enter the AN Carstvo prirode number that you want to call into the phonebook, in order for that number to appear in WA
These are the operating modes of the mentioned applications and cannot be influenced.
If you want to send an inquiry via the Contact form, or want see where the Carstvo prirode facility is located and get navigation to it, or you want visit our Instagram page, use one of the remaining three hot buttons.